Amending High pH Soil and Water Since 1975
Born and raised in California's Central Valley, brothers Bill and George Verdegaal first began serving San Joaquin Valley farmers in the late 1960's. After seeing a need for high pH soil remediation, Verdegaal Brothers, Inc. began to custom apply sulfuric acid and has been doing so ever since.
Benefits of Sulfuric Acid
Increased nutrient availability.

Reduced micro-irrigation plugging caused by bicarbonate build-up.

Increased infiltration rate.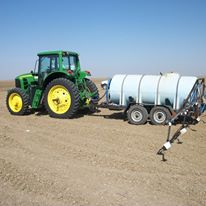 Sulfuric Acid Soil Application